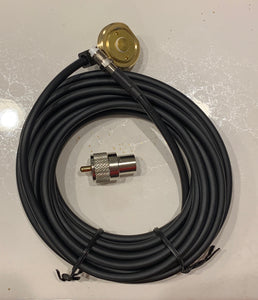 NMO mount (3/4" hole) with attached 17' of low-loss RG58 coaxial cable.
Solid brass NMO mount for thin panel material  (plastic sheet / sheet metal)

Also works with our NMO mounting bracket listed in Accessories
Our coax has an end on it that allows for easier routing through UTV cases that have wiring access (like RZRs, etc.).

Includes a screw on adapter to connect the coax to the radio.
Ships Free!