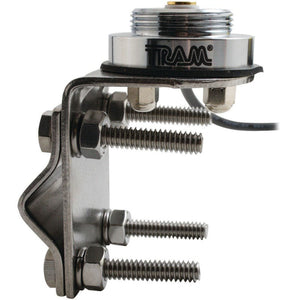 Stainless steel mirror mount bracket with NMO antenna mount.  This bracket allows for multiple mounting options to mirror brackets, spare tire carriers on Jeeps, or use with our roll bar clamps (coming soon) as the basis of a sturdy antenna mount.

Base includes 17 feet of premium coax cable terminated in a mini UHF connector.
Use with our Mini UHF to PL259 adapter to connect to a vehicle mounted radio.
Use with our Mini UHF to SMA adapter to connect to most handheld radios.