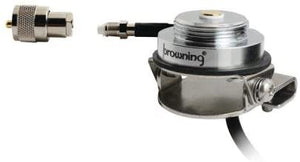 NMO mount (3/4" hole) attached to an adjustable trunk lip mount.  Can also be used as a hood mount or a mount any place where you have access to the edge of a body panel.  Accommodates a surface up to 3/8" thick.  Comes with 17' of low-loss RG58 double shielded coaxial cable.
The cable terminates with a female FME terminal.  This allows for easy cable routing since the FME is essentially the diameter of the coax.

Comes with an adapter to connect to a standard UHF antenna port (PL259).