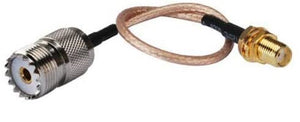 This adapter allows you to connect your handheld radio to an antenna that uses a standard PL259 connection for the cable such as a vehicle mounted antenna.  The handheld end of this adapter cable is an SMA female and the other end is a SO-239 female end.
Combine with our Dual Band Magnet Mount antenna to increase the range of your handheld radio.
Does not work with the Midland GMRS handheld radios.
Ships Free