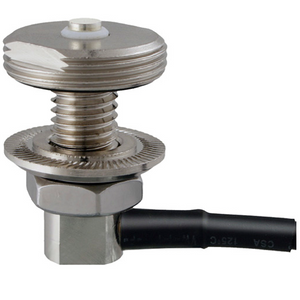 NMO mount (3/4" hole) with attached 17' of low-loss RG58 coaxial cable.
Thick Panel Series NMO ¾" Hole Mount Assembly
Precision 50Ω Interface
Low-Profile Interior Installation
Self-Adjusting NMO Locking Nut Eliminates Guesswork and Decreases Installation Time
All Brass and Stainless Steel Components for Maximum Reliability and Corrosion Resistance
Non-Rotational Heavy-Duty Centering Washer Ensures Perfect Hole Alignment while Optimizing Non-Slip Clamping Pressure
Fits mounts / panels from 3/32" to 1/2" thick
This version of this mount uses a small radio end fitting with a screw on adapter to ease routing of cable while maintaining PL-259 (UHF) compatibility with the majority of mobile radios.  
If you are not running wiring in tight quarters, use this version to save a few $$.