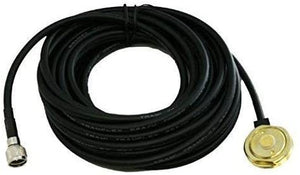 NMO mount (3/4" hole) with attached 17' of low-loss RG58 double shielded coaxial cable.
Solid brass NMO mount for thin panel material  (plastic sheet / sheet metal)

Also works with our NMO mounting bracket listed in Accessories
This mount has a factory attached MUHF terminal fitting.
Use with our Mini UHF to PL259 adapter to connect to a vehicle mounted radio.
Ships Free!