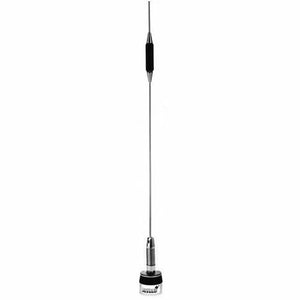 No Ground Plane Whip Antenna UHF.  Antenna requires tuning and uses an NMO mount (3/4" hole).  Stainless steel whip with a base loaded coil.
No Ground Plane required so this can be mounted pretty much anywhere.  Performance is better if mounted with a ground plane,  Ideal for plastic panels, roll bar mounts, etc.

No ground plane collinear antenna. 5 dB gain with ground plane, 3 dB without ground plane

.

Tuning via mast trimming - trimming chart included.
Mast is 35" tall prior to trimming. 
450 - 470 MHz,
If your mounting location provides an adequate ground plane, you can save some money with our standard UHF whip antenna.